At your wedding or event, our digital photo booths provide both entertainment and a keepsake for your guests. Choose between our premium 4×6 prints, or two 2×6 photo strips!
Our compact, open concept rental photo booths will blend easily in to any event. We use professional quality photo and lighting equipment to create the best images possible.
Our enclosed photo booths offer a more traditional look and feel, with the same high quality photos, touchscreen operation and an external viewing monitor.
Customize your photo prints with your wedding or event name, date or logo. Each guest will take home their photo as a fun favor and you will receive a USB drive of all of the photos that were taken. Your photos will also be uploaded into a password protected gallery for you and your guests to view.
Bring the excitement of a Soapbox Photo Booth to your wedding or next event in the Greater Toronto Area and beyond!
Photo Booth Rental Toronto
How it Works
Our delivery technicians will quickly setup the Soapbox Photo Booth in your desired location (our booths take less than 5 minutes to setup and test). From there, it's as easy as 1-2-3 for your guests!
Have a seat!

Your guests can choose from our props (a free option) and then have a seat and simply hit the start button!

Smile!

The photo booth will then show your guests on screen so they can line themselves up. It will take 4 photos, showing them the photos in between shots.

Pick up your photo!

The fully automated photo booths will then print and cut your customized print for your guests to take home. The whole process takes less than a minute which leaves lots of time to ensure that all of your guests will get a photo!
At the end of your rental, we will pick up the photo booth and bring it back to our facility. We then upload your photos to a password protected album, and send you out a USB drive with all of the full quality photos.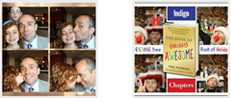 All packages include a fully customized print layout for your event name, date, colours, etc. You can choose from one of our designs, or work with us to create something all your own!

Click here to visit our Photo Gallery for samples from our Photo Booths.